We are going to learn a trick in order to postpone verb conjugation. But this is no Indian Spanish anymore, this is real Spanish with a simple shortcut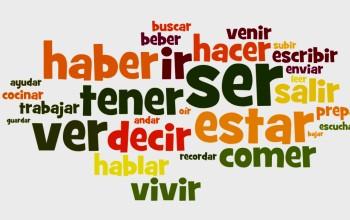 There are many verbs which can be easily combined with others to form a structure. So we are making use of this feature and learn to communicate lots of ideas using only a few verbs
Verbo + Verbo Infinitivo (-ar; -er; -ir)
Me gusta cantar
As you can see above (I like singing) we can combine two verbs and only the first one needs to be conjugated. We can do it with the verb GUSTAR and with many others the same way.
These common expressions have different meanings and we can use them most of the times.
FUTURO
(Yo) voy a visitar a mis amigos
(Tú) vas a comprar en el supermercado
(Él) va a ir a Estepona mañana
OBLIGACIÓN
Rafael tiene que trabajar los domingos
Yo no tengo que hacer la compra
Los españoles tenemos que vacunarnos pronto
VOLUNTAD
Los estudiantes quieren tener vacaciones
Yo no quiero estudiar muy duro
¿Qué quiere usted comer?
PERMISO / POSIBILIDAD / HABILIDAD
Puedo tocar la guitarra, pero muy mal
No puedo tocar el piano
¿Puedes ayudarme?
*Instrumentos musicales con verbo TOCAR: Tocar el piano, tocar el violín…
¿Quedamos?
QUEDAR: To arrange a meeting
CONOCER: To meet someone for the first time
ENCONTRARSE: To meet someone unexpectedly
-Diga
-Hola Marta, soy Juan
-¡Hola Juan! ¿Cómo estás?
-Pues muy bien, pero estoy muy ocupado en el trabajo. ¿Y tú?
-Yo estoy bien, ahora estoy en la playa
-¡Qué bien! Me alegro mucho. Te llamo porque quiero quedar contigo para tomar algo el sábado…
-El sábado me viene mal, voy a estar en el pueblo de mis padres, pero podemos quedar el domingo
-El domingo no puedo quedar, tengo que jugar al tennis. Voy a participar en un torneo de tennis
-Vale, lo entiendo… ¿y puedes quedar el viernes?
-¡Sí! El viernes no tengo que trabajar por la tarde
-Vaya, pero yo sí tengo que trabajar por la tarde, solo tengo la mañana libre…
-Imposible… tengo que estar en la oficina, y si salgo puedo encontrarme con mi jefe por la calle y entonces voy a tener problemas
-Esto es increíble Juan, hace seis meses que hablamos en Tinder y todavía no podemos conocernos en persona…
-Sí, estamos siempre muy ocupados…
I hope you enjoyed the lesson! As you can see there aren't translations so you can work it out a bit on your own. No worries if you don't have the time or you cannot understand the lesson fully, we will explain it all next Tuesday. In the meantime why don't you make sentences about your future plans, obligations, what you want and can do?