We have an example of a diary this week. This is a way of practising your grammar as well as using your vocabulary. You can use a dictionary to search any words you need, but try to build the sentences yourself!
Por la mañana
Soy de Estepona, que es un pueblo en la costa. Es muy bonito y me gusta mucho. Normalmente tengo las mañanas libres, así que voy a la playa. Antes desayuno tostadas y un café con leche. ¡Bebo mucho café!
El agua está fría en Abril, pero no hay mucha gente en la playa. Me gusta la playa cuando no hay gente, así puedo hacer deporte tranquilo.
Al mediodía
En España almorzamos a las dos normalmente. Yo almuerzo sobre la 1:30. Me gusta hacer una comida ligera antes de trabajar. Ahora también hago gazpacho para beber en el almuerzo, ¿te gusta el gazpacho?
Después duermo una siesta de quince minutos y bebo café. Necesito estar muy despierto porque la primera clase siempre es con los niños más pequeños. Ellos tienen mucha energía y la clase tiene que ser muy activa. Si la clase es lenta, ellos se duermen.
La tarde
Normalmente tengo que trabajar toda la tarde. Me gusta mi trabajo mucho, es muy interesante poder enseñar idiomas y ver cómo mis alumnos aprenden.
Tengo clases a partir de 4 años hasta adultos. La clase de los adultos vienen los últimos y es muy tranquila. Ellos hacen mi trabajo fácil, pero aprenden más lentos que los niños.
La noche
Ahora no puedo ir a los bares, así que por las noches siempre voy a casa. Normalmente ceno con la televisión y después leo un libro.
Me voy a la cama a las once más o menos, siempre estoy muy cansado a esa hora.
Glosario
Mañana – the morning (in this context) but it also means tomorrow!
Gente – People
Deporte – Sport
Ligera – light
Despierto – awake
Lenta – slow
Fácil – easy
Verbos
Voy (IR) – I go
Desayuno (DESAYUNAR) – I have breakfast
Hay – There is / There are
Puedo hacer (PODER) – I can do
Almorzamos (ALMORZAR) – We have lunch
Duermo (DORMIR) – I sleep
Enseñar – Teach
Ver – See
Aprenden (APRENDER) – they learn
Ceno (CENAR) – I have dinner
Tu turno (your turn)
I hope you understood my diary above. As you can see all the sentences follow a similar structure.
Most of the structures used were studied in the previous lessons so they should be familiar. You can use some of the following vocabulary to help you and you don't have to worry about verb conjugation too much.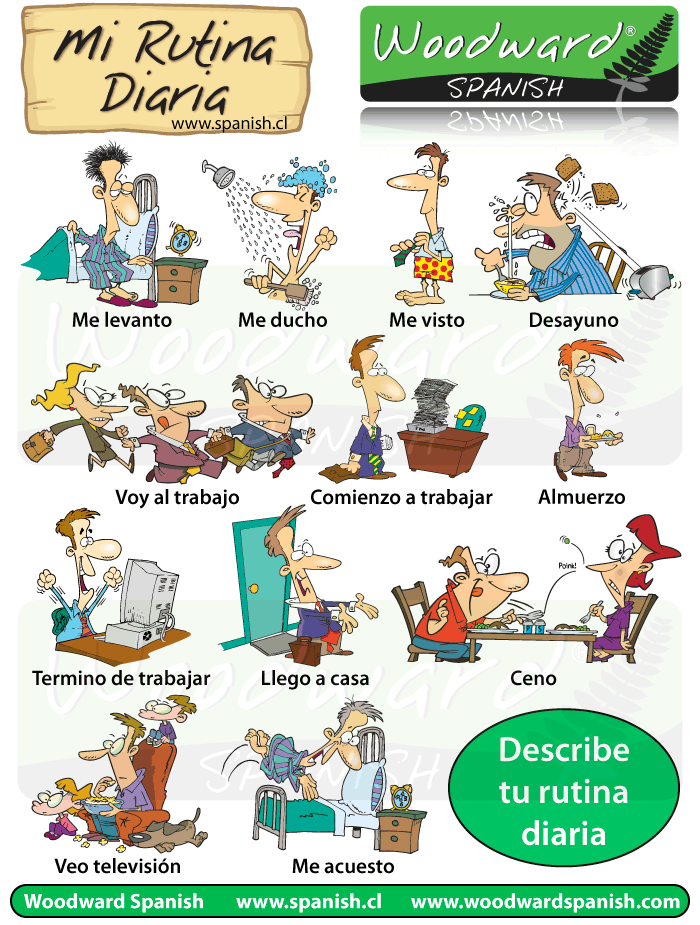 During the class, I will ask you these questions (and similar ones)
¿Qué haces el fin de semana?
¿Qué haces durante las vacaciones?
¿Cocinas?
¿A qué hora te acuestas?
¿A qué hora te levantas?
¿Qué te gusta hacer en tu tiempo libre?
What do you do at weekends?
What do you do during holidays?
Do you cook?
What time do you go to bed?
What time do you get up?
What do you like doing in your free time?